The Mississippi Delta and Memphis, TN based band, The Shoe Birds, have released their fifth and final album entitled, "Southern Fables".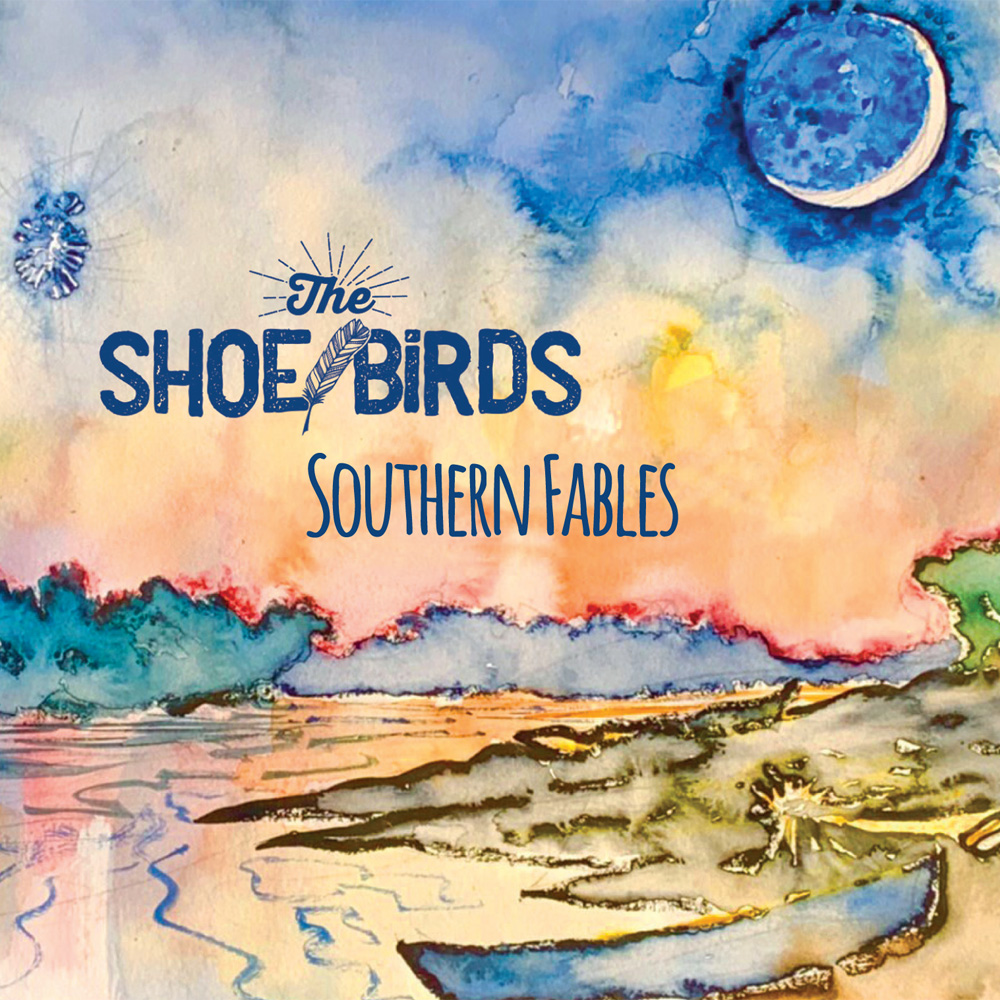 In May, 2020, shortly after the founders of The Shoe Birds, Scott Coopwood and Norman Adcox (lead vocalist) finished their third album, "Origin", Adcox unexpectedly passed away at his Memphis home from a sudden heart attack. Many felt that was the end of The Shoe Birds. However, 2019 and 2020 had been prolific songwriting and recording years for Adcox and Coopwood.
"During that period, we recorded enough songs to release album Number 4," said Coopwood. "And, we still had an album's worth of songs in the can that we recorded back in 1985. When we started this outing, our goal was to release five Shoe Birds' albums and then go from there. After Norman's passing I was determined to complete that goal and I am certain that is what Norman would have wanted me to do."
Coopwood and Adcox had been close friends since their freshman year at Ole Miss. And, while the two wrote songs together in college, that material didn't see the light of day until 29 years later when Coopwood stumbled across the songs on several 8-track tapes. 
"Norman and I had forgotten about those songs from 1985," said Coopwood. "However, after listening to them, we were pleasantly surprised how good they were. So, we decided to form a band, re-record the songs, and release them as our first record."
That first record, "Southern Gothic" was released in 2015. Through the advice of legendary record producer and close friend, Norbert Putnam, Adcox and Coopwood recruited several top level studio musicians in Nashville and recorded the debut album at the historic Sound Emporium Studios. Enlisted in the recording was Greg Morrow (drums), Pat Buchanan (guitar), Tony Harrell (piano), Alison Prestwood (bass), and Russ Pahl (steel guitar). Local Cleveland, Miss. musicians Barry Bays (bass) and Brian Schilling (drums) also played on several tracks.
After the first record was released, Bays and Schilling stayed on board for the remainder of the records and live performances including The Shoe Birds' public debut on The Thacker Mountain Radio Show in October 2014. The show was broadcast live across the state of Mississippi from The Lyric Theater in Oxford, Mississippi. 
The Shoe Birds' first record was well received by the U.S. and European press and the band was off and running. Other albums followed: "Departures" (2018), "Origin" (2020), "And What Not" (2022), and the latest, "Southern Fables" (2022).
"We wrote mostly new songs for albums two, three and four," said Coopwood who has produced all of The Shoe Birds' records. "Even on those records we still ended up using one or two songs from the material we wrote back in the 1980s."
However, all of the songs featured on The Shoe Birds' fifth and final record were recorded back in the 1980s. 
"And because of this, these songs have a different feel when compared to our other albums," said Coopwood.
For the fifth album, Coopwood and engineer Mike Iacopelli, took the thirty year old tapes and transferred them to ProTools. Once in the digital domain, Coopwood added additional guitars and other instruments and Schilling touched up Coopwood's drum parts from 1985. 
One song on the new album that has special meaning to Coopwood is called, "The Storm".
"The first time I met Norman, he walked into my apartment with an acoustic guitar, sat down, and played a song he was working on called, 'The Storm'," said Coopwood. "We often talked about working on that song and including it on one of our albums, but never got around to it. So, I thought since this is the last Shoe Birds' record and that song was the first song Norman ever played me, it would be appropriate to close the album with it."
The quality of the recording of "The Storm" from back in 1985 was poor. So, Coopwood had to completely re-record the music and add in vocals Adcox recorded in early 2020.
To bring even more specialness to the song, Coopwood used one of Adcox's Martin guitars on the recording that was gifted to him by his wife, Sherry, shortly after Norman passed.
"Southern Fables" was recorded and mixed at Court Street Records in Cleveland, Mississippi. The album is being released by WaxSaw Records and can be found on Amazon, Apple Music, Spotify and all of the social media music platforms. 
"I'm thankful that Norman's great talent is now out in the world for people to enjoy forever," says Coopwood. "We recorded some beautiful music together and I'm thankful we were able to complete our original goal of releasing five albums." 
For more information, contact Holly Tharp at 662-843-2700 or visit theshoebirds.com and on Facebook @theshoebirds.