Named after the only children's book acclaimed Southern author Eudora Welty ever wrote, Mississippi based indie pop/rock band, The Shoe Birds bring their second album Departures to an ever growing audience, following their critically acclaimed debut album Southern Gothic.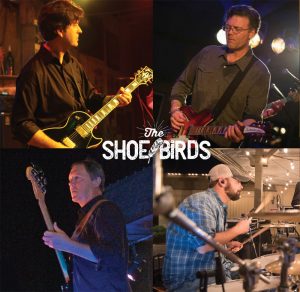 Eudora Welty's book has been compared to a modern day Aesop's fable, with the moral of the story being "think for yourself" — which is the goal for the band's founders, Norman Adcox (lead vocals, guitars) and Scott Coopwood (guitars, background vocals). Adcox and Coopwood worked hard to create music with its own sound and message that stays true to themes from the heart, telling stories influenced by growing up and living in the Mississippi Delta, Mississippi and Memphis. With Barry Bays (bass) and Brian Schilling (drums), The Shoe Birds have been developing a reputation for their hook filled tunes, influenced by the South's rich culture and music, as well as its literary heritage.
Departures, was produced by Coopwood. The new CD is comprised of nine songs that were mostly recorded in Coopwood's studio in Cleveland, Miss. by Coopwood and famed engineer Mike Iacopelli whose credits include Aretha Franklin, George Clinton, Jennifer Holiday, Stevie Wonder, Keith Richards, the Red Hot Chili Peppers and many others. Coopwood and Adcox also returned to Sound Emporium in Nashville to record some of the record with Mike Stankiewicz (Kenny Chesney, Gavin Degraw, Linda Ortega, Willie Nelson) engineering. Portions of the record were also recorded at Ardent Recording Studios in Memphis with Mike Wilson who Coopwood has worked with on other projects for the past ten years.
The first single from the record, Was it Love, breaks through the ether, with a solid driving beat, progressive guitars and synchronic lyrics. The song "explores if love is something that's real and sustaining without the usual platitudes", says Adcox. "This album is definitely a departure from our debut album. Departures goes in a bit of a different direction. But you know the music is pure Shoe Birds."
Talking about the track The Kind of Gurl, he says, "We go full-on pop song with this one. The song is something you may have heard in the sixties. But our spin brings it up to date. We even pay homage to the legendary Memphis band Big Star with the title."
Driving Highway 1 fantasizes about being with a beautiful woman and driving the most beautiful stretch of road — and being in love. It's pure imagination about a time and a place that you can never reach in real life. Adcox says, "The production on Departures breaks each instrument down to its essentials, accentuating each feeling and mood throughout each song."
The Shoe Birds' Departures promises to draw you in with their sound and leave you wanting more.